Underfloor Spray Foam Insulation
Underfloor spray foam insulation is a type of insulation that is applied to the underside of a building's floor using a spray foam applicator. This type of insulation can help to improve the energy efficiency of a building by reducing heat loss through the floor. It is commonly used in the UK, particularly in older buildings that do not have adequate insulation, to improve comfort and reduce energy costs. The foam can also help to reduce noise transfer between floors.
Interestingly, a cheap and efficient way to keep heat trapped, keep cold draughts outside, and make your floors feel notably warmer is to insulate the underfloor. A cheap and efficient way to lower your heating costs is to increase your underfloor insulation, particularly with the most efficient and affordable insulating material like spray foam.
Understanding Underfloor Insulation
Although underfloor insulation is frequently ignored, it may be one of the most economical ways to create a warm, draught-free home in older structures.
Not only does floor insulation reduce heat loss, but it also plays a significant role in preventing draughts that let cold air into a building.
Expansion holes under skirting boards on the building's perimeter permit cold draughts to push into the building envelope, which causes warm air to be forced upward and become chilly and draughty at low levels.
Our spray foam solution can eliminate these draughts and cold floors very frequently. Open-cell spray foam is smooth and malleable and will fill any gaps left by cables and pipes. Because it is flexible, the building is still capable of expanding and contracting with the seasons without compromising its airtightness.
Because of the existence of HBS(Icynene) products, the foam, once applied, tightly seals the interior of a building, preventing heat loss. Lowering the amount of energy required will result in massive annual cost savings.
HBS Spray Foam helps prevent heat loss from a building, which means that less energy is required to maintain a warm environment throughout, thus lowering the carbon footprint of the building.
How do we Employ Spray Foam for Underfloor Insulation?
The convenience and speed with which spray foam insulation can be installed is what makes them so most preferred. Underground foam insulation is a brilliant choice for massive properties and buildings because the foam solidifies in just a few minutes.
Our professionals can quickly improve the quality of your insulation with a minimum of effort and disruption to daily life.
To find potential health risks and spray foam requirements, our team conducts a survey of the property. When installing the spray foam insulation, we follow the recommendations from the survey results.
As a result, we are able to give you a time frame so you can plan your day. Small rooms can, of course, obtain underground insulation in a single day, whereas large buildings will take several days.
It is crucial to clear the space before the application because we require comprehensive and simple access to the area. We will give you a detailed interpretation beforehand regarding how to set up your room for underfloor insulation
Underfloor Insulation Perks
A suspended bottom floor, which leaves an underfloor void, is a common feature of UK homes. Targeting heat exchange and minimising draughts at the floor level can both be greatly aided by the use of underfloor insulation.
However, because they are ineffective air barriers, we advise against using substances like natural fibres or wool that may still allow the cold air to pass through. Through the cavities of gas bubbles, foam floor insulation makes an air seal that is both reliable and efficient.
The spray foam solution only needs a two-inch thickness for areas like the underfloor structure with a slender insulating space to become a dependable air barrier that permits all nearby materials to inhale.
in fact, breathability facilitates the ability for the naturally occurring moisture in the air to diffuse and move around.
Lack of ventilation can bind humidity and raise the level of moisture in the room. Our crew at Spray Foam Insulation Quotes Compare advises against using insulation techniques that stop moisture diffusion because they can encourage the growth of mould in the subsurface.
Foam underfloor insulation can be a vital tool for enhancing energy efficiency and lowering heating costs. Energy experts at the Energy Saving Trust calculate that underfloor insulation can save about £75 annually. Besides that, spray foam can shield your home from health hazards that could compromise its comfort and structure.  It also prevents:
Heat loss
Condensation
Mould growth
Dampness
Temperature differences between lower and higher levels
Underfloor draughts that cause temperature fluctuations
Noise pollution
How Floor Insulation Performs in the UK?
Spray foam under floor insulation is much more adaptable than other materials like mineral wool, glass fibre, foam board, and others when used as a replacement. The liquid spray foam is sprayed to the subfloor region and reacts right away, growing approximately 100 times its original size.
Due to this, pipes, other irregularities, and awkwardly sized and shaped gaps can all be seamlessly covered with spray foam.
Our crew at Spray Foam Insulation Quotes Compare has used polyurethane foam as insulation for many decades now.
Airtight underfloor insulation is ensured once it solidifies kudos to the expansion and adhesion characteristics of the material. It is a widely used solution to stop the loss of heat and draughts in the winter.
Its water-resistant features, which prevent leaks in structures exposed to high humidity, are also applauded by all.
Basically, the microstructure of the foam determines how well polyurethane insulators perform.
Actually, polyurethane is made up of an isocyanate and a polyol resin, when combined; react to create significant foam. During this reaction, a blowing agent creates air pockets inside the foam. Within a few minutes, the resulting foam fortifies around the gas pockets, securing the insulation bubbles in place.
In order for the solid foam to function as a solid sponge that prevents heat transfer through diffusion, radiation, and convection, these cells must form. Because of the product's exceptional durability, the building's lifespan and comfort will be enhanced.
Cost of Underfloor Insulation in the UK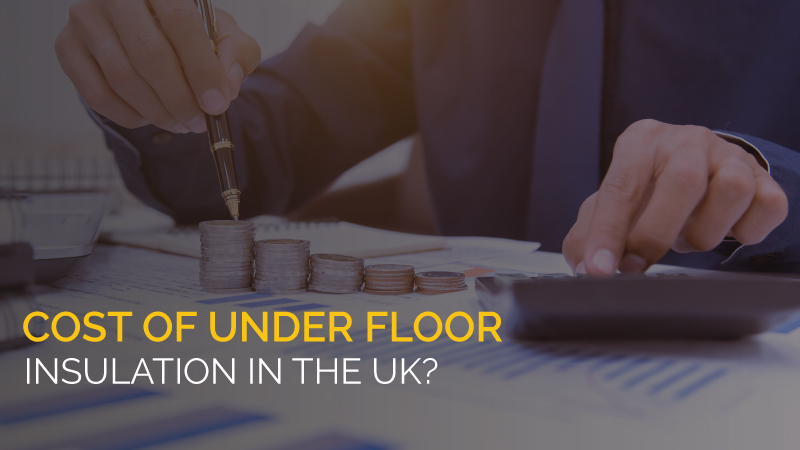 After insulating the underfloor in the UK, you could save £40 a year, and you can seal the gaps between floors and skirting to reduce bills on heating and cooling.
Our surveyors can provide a non-obligation underfloor insulation quote, as we have already mentioned. To determine and grasp your necessities, we conduct a thorough survey of your property. You can be sure that working with us won't have any unexpected costs.
Our experts will provide you with a clear breakdown of costs and a time frame for our services, whether you need to learn how much-suspended floor insulation will cost for your home premises.
As part of our quoting process, we take into account the kind cost of spray foam insulation solution you can demand, the length of the surface area, its width, and the installation method.
Likewise, we can coordinate application durations with you and think through the best options for underfloor spaces that are daunting to access.
We can also talk with you about extra insulation advice and suggestions as part of our survey, such as insulating your lofts, cavity walls, and roofs.
We recognise that there are numerous other purposes for spray foam insulation, but we will be the first to inform you if and when underfloor insulation is the better alternative for your building.
Do not hesitate to contact our team for an unstructured, informal conversation if you are uncertain about how to gain a better understanding of your insulation needs.
Conclusion
We at Spray Foam Insulation Quotes Compare experts highly recommend installing underfloor insulation in your house if you really want to decrease your property's energy consumption and electricity costs. By limiting noise pollution, heat loss, and mould risks, our insulation with spray foam can also maximise your comfort level significantly.
Because HBS Spray Foam is both water and moisture-tight, your residence won't get wet frequently. Rigid insulation foam like HBS closed cell insulation must be greatly employed to insulate solid floors to leverage its maximum advantages.