Not sure who to go with? Do you struggle finding the best spray foam insulation contractor? Or are you not to sure on how they're the best of the best? Well you just sit back and relax because we've got that covered through these short and simple steps.
1. Find an Accredited Contractor
When searching for a insulation contractor, it is always best ensuring they are accredited. An accredited contractor is a qualified installer who is technically competent and has been certified by the manufacturer to install the spray foam insulation product. At spray foam quotes compare we only work with accredited contractors to make sure you get the most affordable and trusted contractor for your project.

 2. Product & Workmanship warranty
It's very important when looking for Insulation Contractors that they provide a warranty because if anything goes wrong or you spot something which may need to be improved on, the warranty will have you covered for a certain amount of time. This is a safety net for you so you don't have any further cost's taken from you.

3. Find a local contractor
You should make sure your spray foam insulation contractor is local! The last thing you want is an install team coming from the other side of the country coming to you for a certain time. Reasons being for this is traffic could badly affect them so if you're staying in for the day and they can't make it because of traffic its a day wasted for you. Another reason is if you need to go in and talk to a member of staff about the sale or to talk to the manager you don't want to be travelling for a day to discuss about the sale.

4. Insulation Product is suitable for your project
One of the most important things you need to make sure is you're picking the most appropriate product for your property. The insulation contractors will come survey your house and will recommend what's best for you weather its open cell or closed cell.

5. Experience and reliability
Experience is a key thing and what you need to know is, you need to have a reliable insulation contractor. From the staff to the installers they need to have experience in this field. The little things like this are very important because you want to have the best for your money. Experienced insulation contractors will leave you with a warranty for the project as well making them more reliable.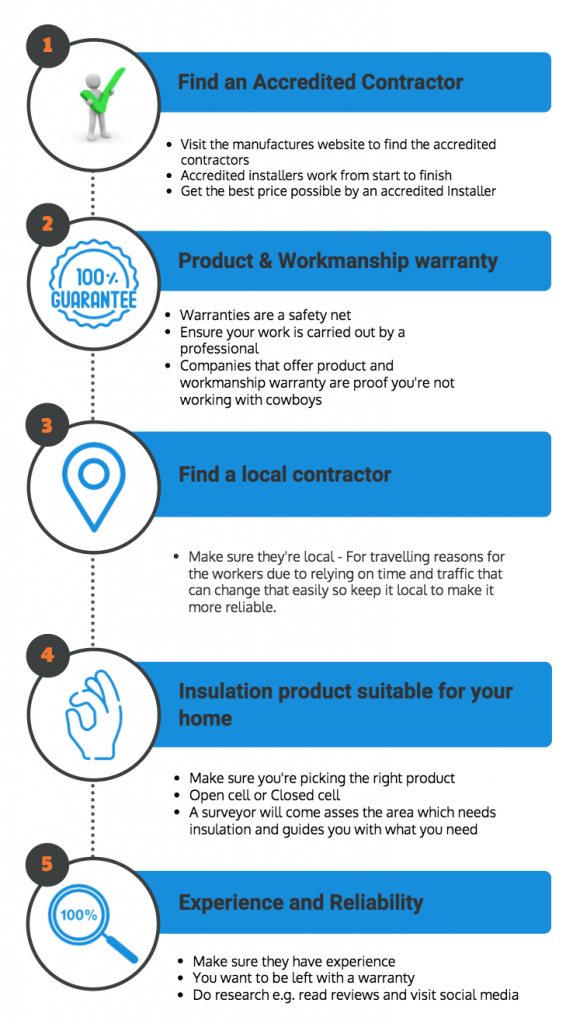 It's a no brainer really, finding your insulation contractor should be a doddle for you. By now you've realised that following these tips will get you the best contractor for you and you will have a successful instalment.