There are several ways that you can insulate your home, from loft insulation to underfloor insulation. Spray foam insulation, first introduced in the 1980s, is one of the most advanced solutions compared to other insulation methods. Spray foam is a popular option for insulation among the home and business owners alike, and with a whole host of benefits. Spray Foam insulation has changed and improved a lot over the past few decades, making it a stellar choice. So, what are the benefits to spray foam insulation? Here are ten major benefits that show why spray foam insulation is the right choice to make.
Water can easily seep through any openings around vents and pipes, no matter how small the gap. This can mean putting your home at risk of mould, bacteria, and rot. Your home can be at risk of needing costly repairs if it is exposed to a lot of moisture. When traditional insulation gets wet, it would normally need to be replaced, but when you have spray foam, that is not the case as it creates air barrier but allow moisture content to pass through and reduce occurrence of condensation. Spray foam also has the benefit of being able to be fitted into the smallest spaces, where traditional loft insulation often cannot, which helps to reduce the chances of getting any water into your home in the first place.
2. Temperature control and comfort
Nobody wants to have a draught in their home which is another reason to choose spray foam. One of the major spray foam benefits is that it can prevent temperature fluctuations in a property. For added comfort and maintaining temperature, spray foam insulation can provide the tightest of seals, helping to retain heat in winter, but help maintain a cool temperature in summer.
3. Improve the indoor air quality
One big benefit of using spray foam is that you can reduce the allergens that are indoors, such as dust, pollen, mildew, mould, and other pollutants. These allergens can make their way into your home through the walls, impacting the air quality for all inside. Another benefit is that spray foam is not an appealing 'food' for pests, so it can be another angle that helps to improve the quality of the indoor air. Spray foam can reduce air-borne allergies, symptoms of asthma, and is non-toxic, making it a great option for both homes and commercial buildings.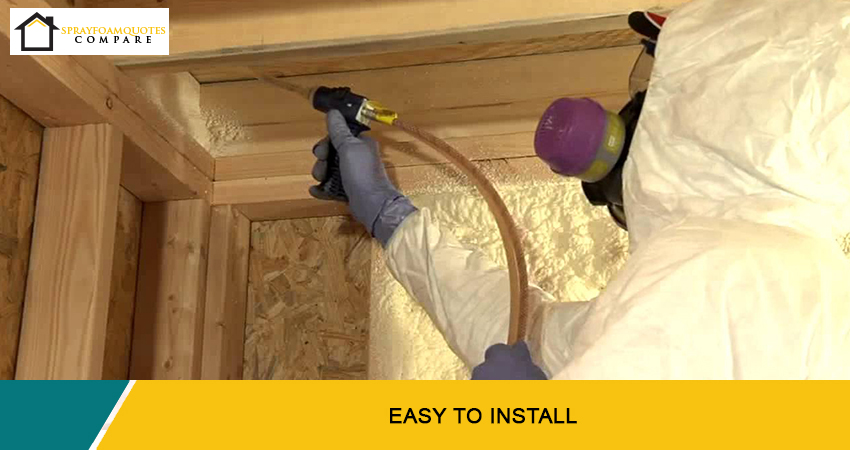 Insulating your loft is something that is an uncomplicated process. As spray foam is so easy to install, it just shows why it is a popular choice. You can get to areas that are hard to reach, and it is a process that is quick and non-intrusive. Our team will use a spray foam insulation gun to cover the desired areas with the insulation cost . It dries fast, so the loft insulation can be completed quickly, and the space can be back to being used again, usually within a day.
5. Increases Energy Efficiency
One of the main reasons that you may be looking to get your home insulated is to improve the energy efficiency of the home, and in turn, make your home more environmentally friendly. Spray foam is a form of insulation that helps the environment as you are reducing how much energy your home needs.
Traditional methods of insulation can start to lose effectiveness as time goes on. The makeup of spray foam means that it can last for many decades. Spray foam insulation will keep its shape, no matter the temperature for a long time. Spray foam insulation can give you a certain level of peace of mind, knowing that you will not have to change it or get it replaced for many years to come.
With spray foam insulation you have the added benefit of not hearing as many sounds from outdoors or neighbours because sound does not travel well through an area that has been insulated with spray foam. Once it has been installed, the insulation will absorb any sound waves, so you will create a quieter space, whether that is at home or an office.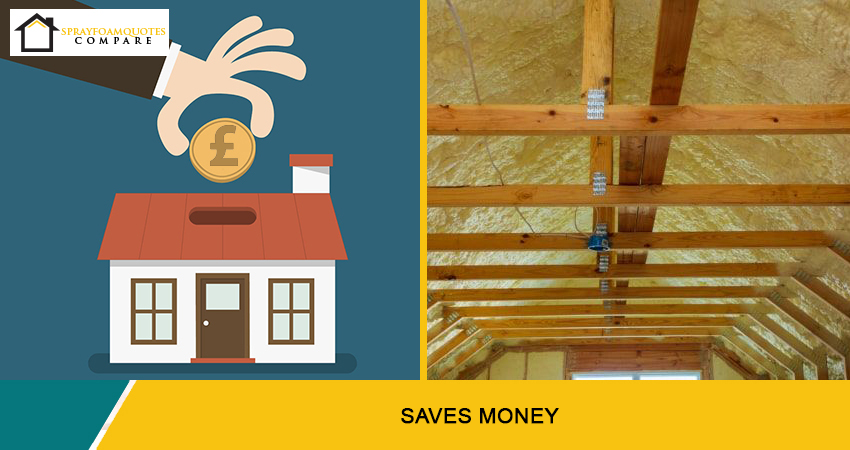 There is no point spending more money on your heating bills than you need to. With spray foam insulation you can reduce those heating costs. But what is the spray foam insulation cost upfront? Spray insulation cost in the UK may seem a little on the expensive side, but in the long-term, it will help to save you money, with our research showing it can shave up to 50% off your energy bills. Spray foam air seals your roof or walls, and that is what will prevent heat loss, helping to save you money on energy bills, year in and year out.
If spray foam insulation sounds like what is right for your property, whether commercial or residential, contact us now. By getting in touch with our team of experts, you can have experienced spray foam technicians give you a free quote and talk through your options. All our work comes with a 25-year manufacturer's warranty, which helps to guarantee that you will have the best products and service from us.